Recipe: Restorative Mushroom Broth
This warming vegan mushroom broth from Jemima Jones and Lucy Carr-Ellison of Wild by Tart is healthy and uplifting. Packed full of Asian umami flavours, treat yourself to a bowl at lunchtimes for instant comfort.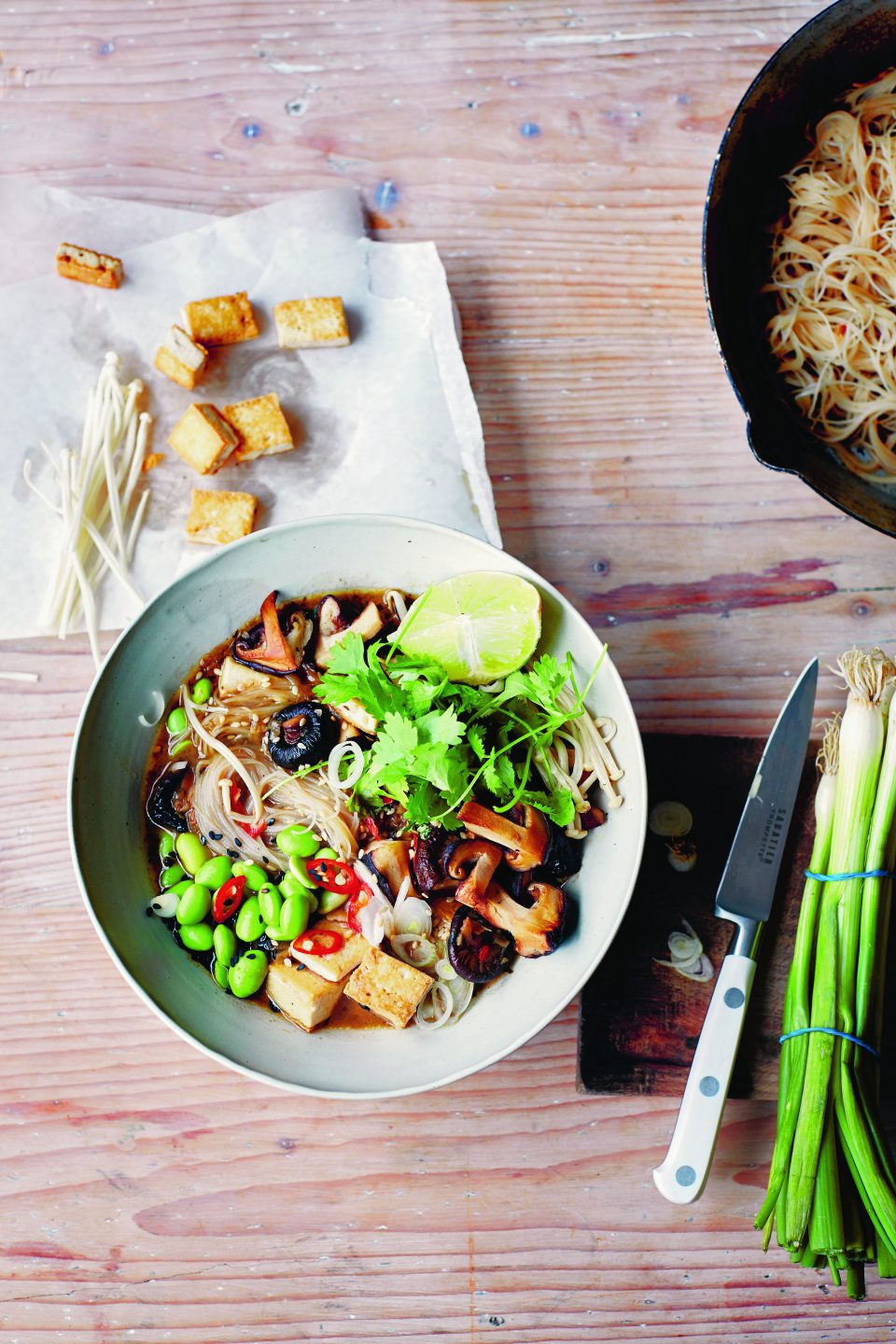 SERVES 4
1 tbsp coconut oil
2-inch piece of ginger, peeled
3 shallots
2 red chillies
2 lemongrass sticks
3 garlic cloves
2 lime leaves
Stalks from a bunch of coriander
1 tsp ground coriander
1 tsp ground cumin
1 tsp ground cinnamon
a handful of dried porcini mushrooms
2 limes – zest and juice
750ml stock (vegetable or chicken)
1 tsp tamarind paste
1 tsp Fish sauce
1 tbsp Soy sauce
1 ½ tsp palm sugar (or maple syrup)
garlic clove, thinly sliced
250g Shitake mushrooms – chopped into quarters
250g enoki mushrooms
sesame oil
udon noodles
tofu
spring onions
radishes
coriander leaves
sesame seeds
1. Finally chop the shallots, ginger, chillies, garlic, lemongrass and coriander stalks (or blitz in a food processor).
2. Heat the coconut oil in a pan and add the above. Sauté for 5 minutes then add the spices, lime leaves, shitake and enoki mushrooms and lime zest, heat for another 2 mins – keep stirring to make sure it doesn't burn.
3. Then add the stock, tamarind, fish sauce and soy sauce. Simmer, keeping to medium heat for at least 20 minutes to allow the soup to infuse.
4. Next, dry the tofu between a paper towel and cut it into cubes. Fry in a pan with ground nut oil until crisp and golden then add a splash of soy sauce and sesame oil. While these cook, slice up the spring onions, radishes, coriander and chillies for your topping.
5. Cook your noodles according to the packet instructions. Serve in a deep bowl with the broth, mushrooms and tofu, adding all the pretty toppings, finishing with a few coriander leaves and toasted sesame seeds.