The Sustainable Trainer Project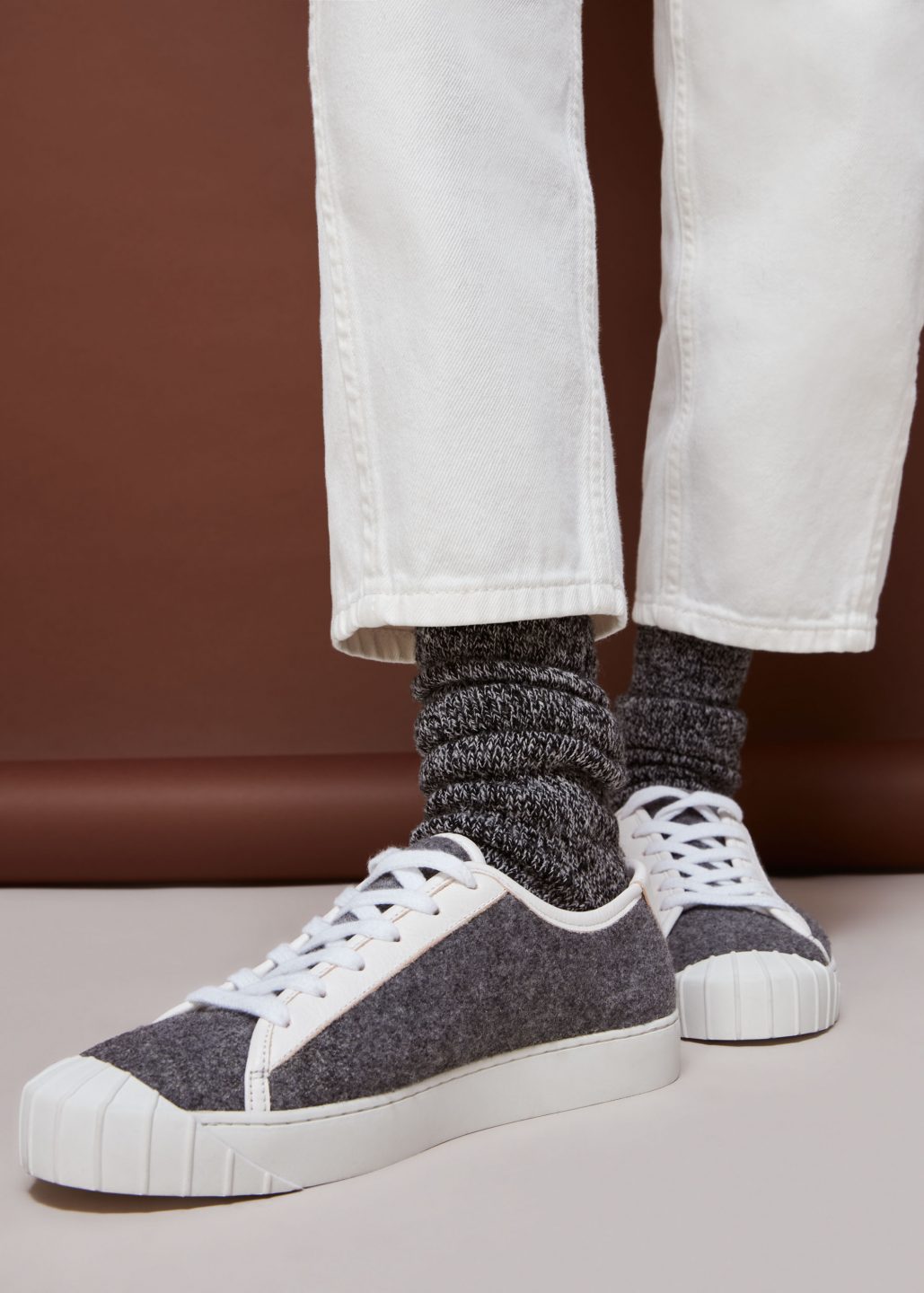 Trainers have always been an all-season footwear staple for us at Whistles, so when it came to developing three new designs, sustainability, craftsmanship and innovation played a fundamental part in each stage of the design process.
Our sustainable trainer project sets to redefine new standards from the design concept to end of the life, combining innovative materials with circularity, while deploying Portuguese localised supply chains for manufacture. We know that investing in a pair of ethical, good quality shoes and learning how to take care of them is ultimately the most sustainable thing to do.
Made in Portugal, our range of trainers are crafted in a factory that upholds the highest ethical BSCI standard A rating, a reflection on the accountability and investment our supplier has put into embedding principles of ethical manufacturing. Using biodegradable leather and suede, regenerated wool and a blend of recycled polyester specialty yarn for the upper, together with recycled and recyclable rubber for the soles, the trainers have been made with sustainability at the centre of the component's development. They also have recycled insoles and organic cotton laces. Water-based adhesives were used in the construction of the shoe and the trainers do not contain any metal parts, which simplifies the recycling process.
All of our trainers are made to last, but even the most-loved pairs have a lifespan. This is why we are searching for the right partner to close the loop, so when your signature pair can't take another mile, you can send them back to us with confidence that we will consciously recycle them. The future of fashion is circular and we are working hard to find the right solutions.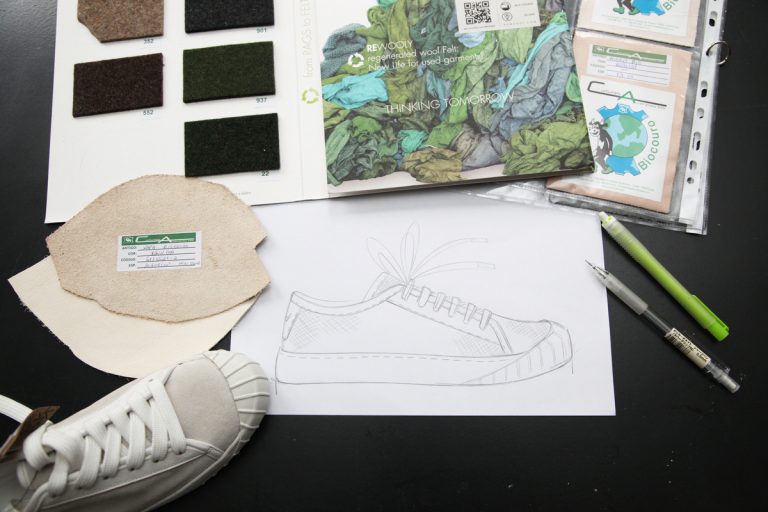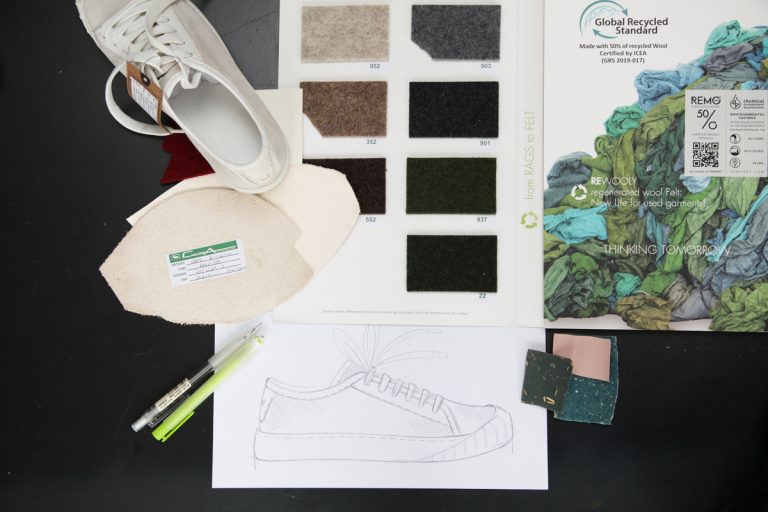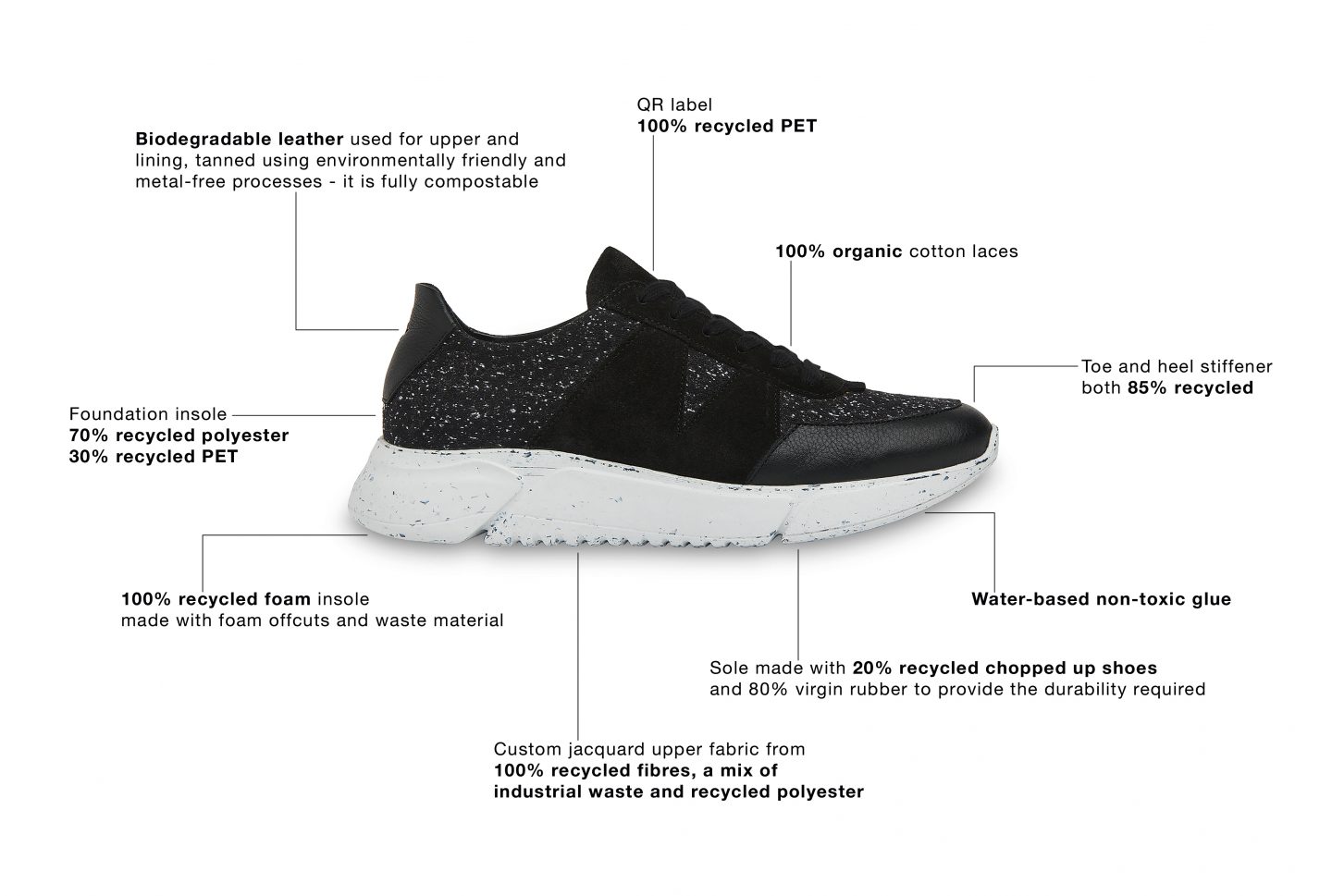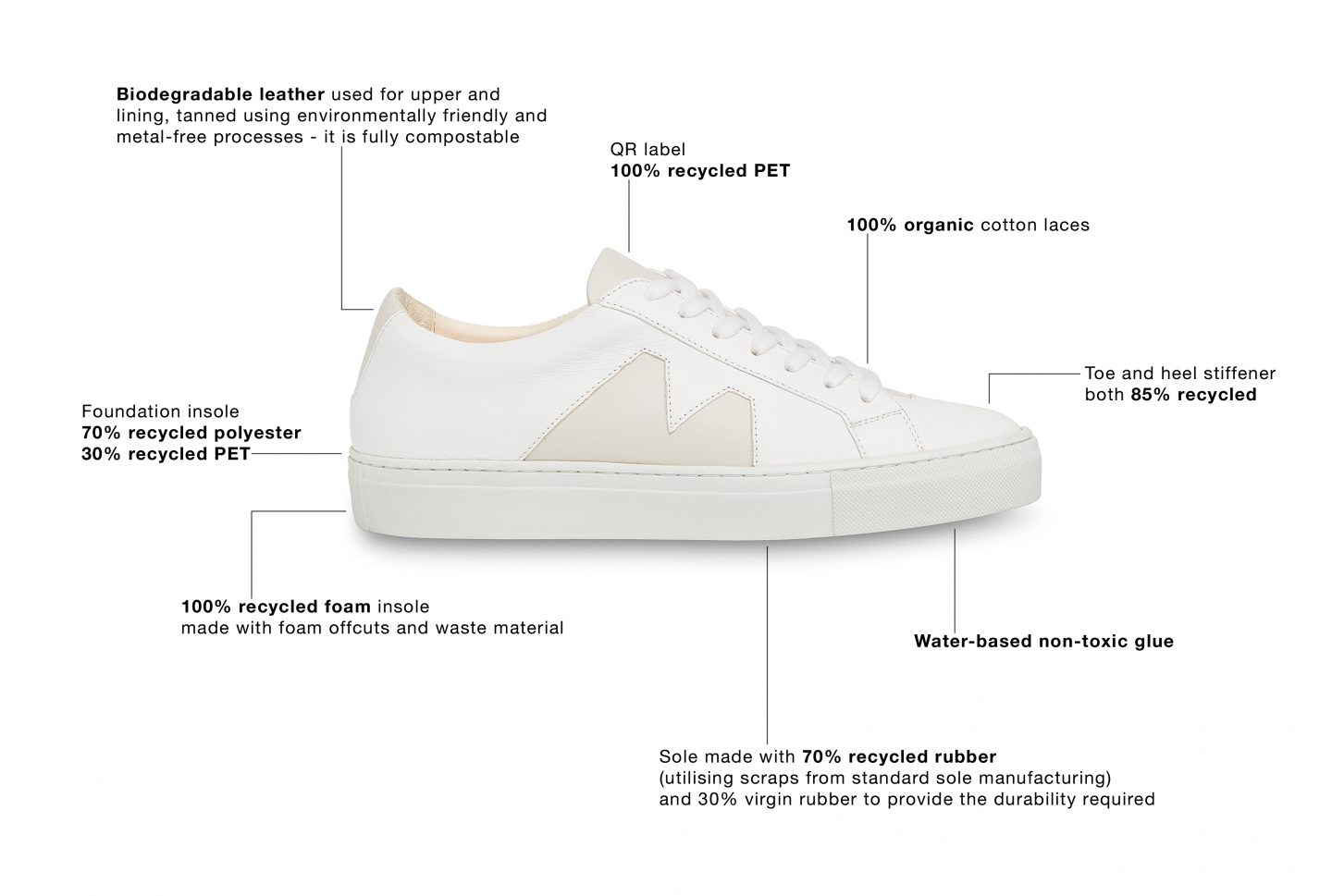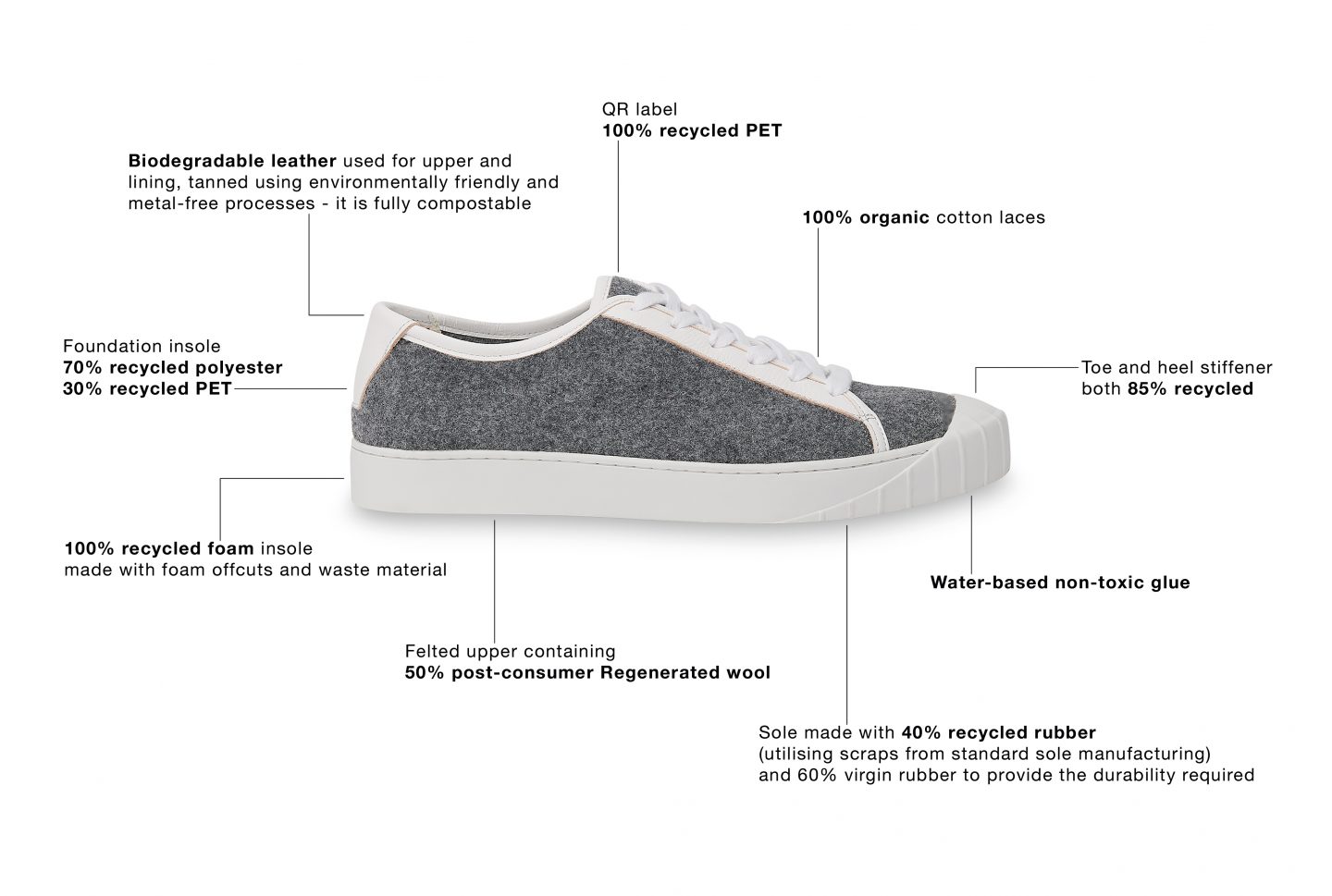 Biodegradable leather
Unlike conventional wet-blue leather which uses chromium in the tanning process, our sustainable trainer project utilises biodegradable leather.
Our tannery partners in Portugal are one of the first pioneers in this sustainable dyeing technique and have been developing it since 1988. The wet-white leather is tanned using vegetable tannins extracted from plants and tree barks, and it is thanks to this process that biodegradable leather is a more sustainable alternative, both 100% biodegradable and compostable into soil fertiliser within 15 days according to ISO 20200:2004.
Regenerated wool
Crafting products with circularity at the core of our design and development process has been pivotal in this sustainable trainer project. For the first time we are introducing regenerated wool into our footwear range by partnering with one of Italy's most innovative woollen mills, which has invested in traditions and innovation since 1973.
This regenerated wool material carries 50% of recycled material as a blend of 70% wool and 30% polyester, and it is perfectly suited for its application in footwear, while significantly reducing the use of water, energy and carbon. Through the ragging process, items of clothing are reduced into recycled fibres, separated by colour and type.
Recycled rubber
The rubber industry is one of the many contributors to waste that ends up in landfill. To address this, our sole supplier applies a process that transforms, devulcanises and creates, through rubber surpluses, a new compound with the same characteristics and specificities as the original product. This process doesn't only reduce the production of rubber, but also ensure that the surplus material will not be wasted, but rather regenerated into new material. Today our soles contain up to 70% of recycled rubber, with the hope that once technology develops, we could bring this closer to 100%.
Organic cotton
Grown with no artificial inputs, organic cotton sustains the health of soils and ecosystems, combining tradition, innovation, and science to benefit the environment.
Water-based glue
Water-based glue is a more environmentally friendly alternative to solvent-based glue, which is well known for releasing volatile organic compounds (VOCs) into the atmosphere, linked to a number of serious health problems in people, and contribute to the formation of ground-level ozone which leads to global warming.
Component Weave™ and Albert Yarn
Component Weave™ is an innovative solution that incorporates jacquard weaving techniques with specialty yarns. The Component Weave™ fabric engineered for our sustainable trainer project is composed of 20% Albert Yarn and 80% recycled yarn. The fabric is strong, super soft and responsibly designed and produced.
Avery Dennison's Albert Yarn reimagines textile waste as a resource with great potential and is a prime example of the circular economy – showcasing how the unwanted can be transformed into the useful and desirable.
Albert Yarn is 100% polyester, with a natural touch and feel. It was created at Avery Dennison's renowned Collitex site in Italy for use across a core range of woven products. No chemical processes are used in the production of the raw material and it is completely traceable within the recycling chain. Repurposing pre-consumer production waste not only saves water and energy, but also eliminates the disposal process and any resulting emissions.
Other components:
Foundation Insole: Made from 100% recycled polyester.
Foam insole: Made from 100% recycled polyurethane foam.
QR Code: Made with Avery Dennison's Component Weave™ and Albert Yarn
Thread: Made from 100% polyester, threads used in footwear need to be resilient, ensuring quality and longevity. We are working on finding a solution that doesn't impact the strength and quality.
No metal parts which aids the recycling process at the end of the shoe's life.
Packaging: Made from 100% recycled and biodegradable materials